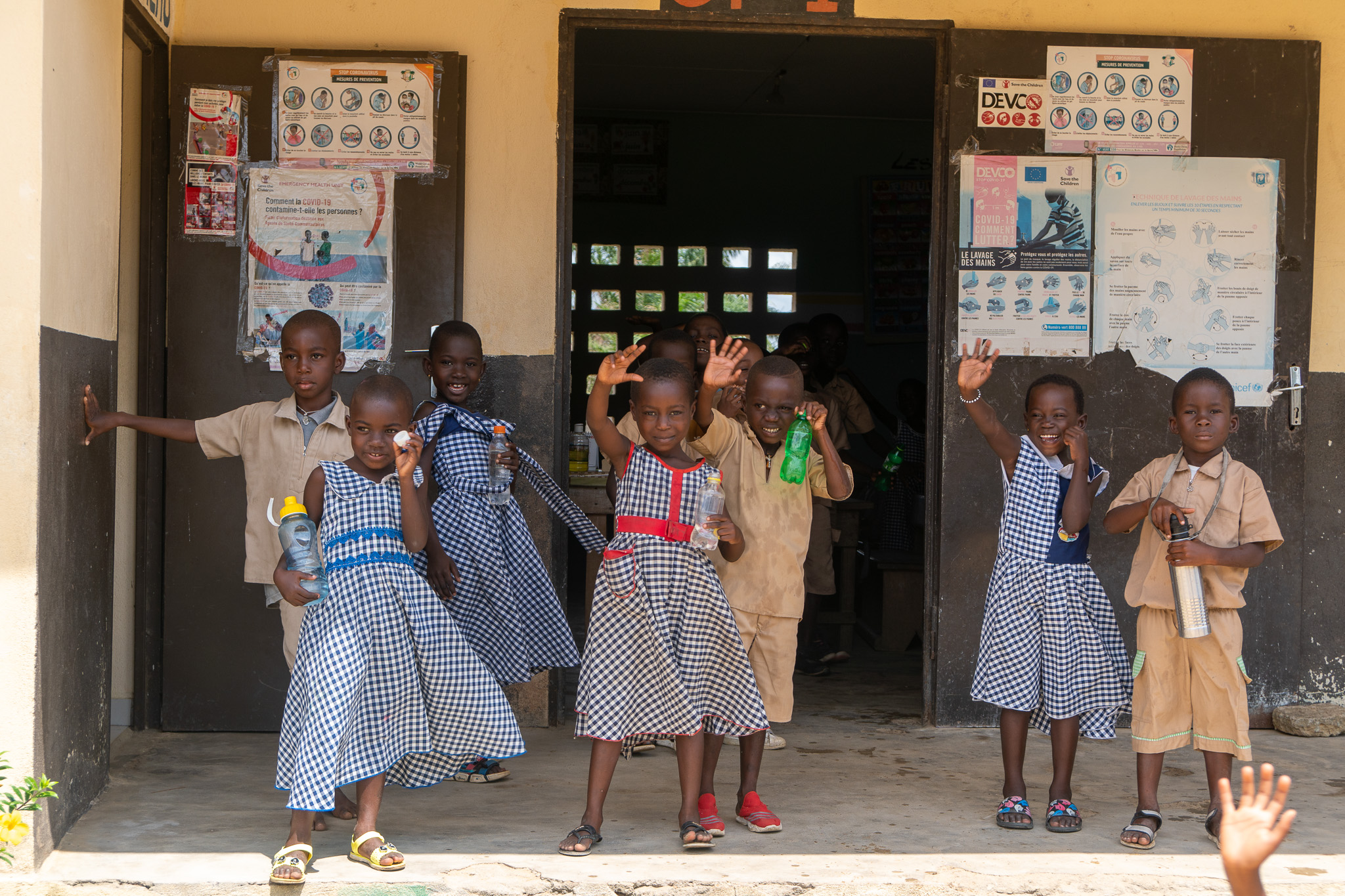 - - English - -
In continuation of the WinS International Learning Exchange (ILE) series, initiated by GIZ and UNICEF in 2012, the 1st African WinS ILE was hosted by the Ministry of National Education and Literacy of Côte d'Ivoire and brought together Government representatives from 20 African countries and their key WASH in Schools partners (Development partners, NGOs and INGOs) from a total of 26 African countries – East and Southern Africa and West and Central Africa – with invited global partners from Asia, Europe, North America and the Pacific. Global data on WinS from the JMP was presented as well as UNICEFs new strategic directions for WinS. Participants had the opportunity to learn from experiences in Asia (South-South learning exchange), visit schools and experience WinS in action in Côte dIvoire. In small groups of 3 countries, government representatives were able to present current WinS challenges and seek advise from their peers in other countries. The last day of the event was dedicated for country representatives to plan the way forward towards reaching the SDGs for WinS (under SDG 4 and 6) and to discuss recommendations on the way forward for WinS in Africa.
This document represents consensus among all participants on key areas to accelerate action on WinS in order to achieve universal WinS coverage with at least basic WinS services by 2030 as agreed by all UN member states in the SDGs.
The outcome document of the conference is attached below in English and in French. You may also download all materials used during the conference HERE.
All participants thank the Government and the Ministry of National Education and Literacy of Côte d'Ivoire for hosting the event and for providing the opportunity to exchange and learn.
- - French - -
Dans la continuité de la série d'échanges internationaux d'apprentissages WinS (ILE), initiée par la GIZ et l'UNICEF en 2012, le 1er ILE africain WinS a été accueilli par le Ministère de l'Education Nationale et de l'Alphabétisation de Côte d'Ivoire. Elle a rassemblé des représentants gouvernementaux de 20 pays africains et leurs principaux partenaires WASH dans les écoles (partenaires de développement, ONG et OING) avec un total de 26 pays d'afrique sub-saharienne - Afrique orientale et australe et Afrique occidentale et centrale - ainsi que des partenaires mondiaux invités d'Asie, d'Europe, d'Amérique du Nord et du Pacifique. Des données globales sur les WinS issues du JMP ont été présentées, ainsi que les nouvelles orientations stratégiques de l'UNICEF pour les WinS. Les participants ont eu l'occasion de s'inspirer des expériences menées en Asie (échange d'apprentissage Sud-Sud), de visiter des écoles et de voir WinS à l'œuvre en Côte d'Ivoire. En petits groupes de trois pays, les représentants des gouvernements ont pu présenter les défis de WinS auxquels ils font face et demander conseil à leurs pairs dans d'autres pays. Le dernier jour de l'événement a été consacré à la planification par les représentants pays des 3 actions prioritaires qui vont aider a l'atteinte des ODD relatifs au WinS (ODD 4 et 6) et de discuter des recommandations du forum sur la voie à suivre pour WinS en Afrique.
Ce document représente un consensus entre tous les participants sur les domaines clés pour lesquels il faut accelerer l'action pour assurer une couverture universelle des interventions WinS avec un minimum de services de base dans les ecoles díci 2030, comme convenu par tous les États membres de l'ONU dans les ODD.
Le document final de la conférence est joint ci-dessous en anglais et en français. Vous pouvez également télécharger tous les documents utilisés lors de la conférence ici.
Tous les participants remercient le gouvernement et le Ministère de l'Éducation Nationale et de l'Alphabétisation de Côte d'Ivoire d'avoir accueilli l'événement et de nous avoir donné l'occasion d'échanger et d'apprendre.